Duffy Daugherty Football Building
Jack Breslin Student Events Center


Duffy Daugherty Football Building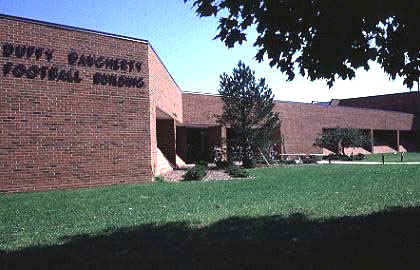 Located on the southeast corner of Shaw Lane and Chesnut Street, the Duffy Daugherty

Football Building is the centralized base for Spartan Football and the

athletic training program at MSU. The athletic training room occupies nearly 5,000 square feet in the area most recently housing the old weight room. Three staff offices, a special pad fabrication/orthotic lab, a conference room, a hydrotherapy room, rehabilitation and taping areas, three physician examination rooms, and a treatment area all create the modern, efficient health care facility.


The Duffy Daugherty athletic training room features a new SwimEx, which can be used for continuation of rehabilitation without placing too much stress on the injured joints or musculature. Renovations to the Duffy Daugherty Football Complex were completed in the Fall of 1997 at a cost of $5 million. In addition to the spacious athletic training room, the building also boasts nearly 9,000 square feet for the weight room, an indoor practice facility, and

31,000 square

feet in the Clara Bell Smith Student-Athlete Academic Center opened for use by all MSU varsity athletes in May of 1998. The academic center, located at the northeast corner of the Duffy Football Building, contains an auditorium, study rooms, computer center, and a career center.